Tissue Paper Collage Slide Show
You Won't Need To Dry Your Eyes
With This Tissue Paper!
This class session was like "Old Home Day," to us. We were back in the saddle making wonderful paper collage designs. Take a look...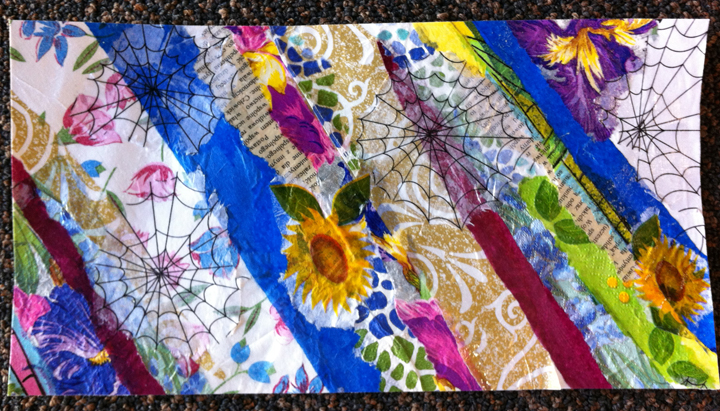 Joni was so excited, she finished this piece before our class meeting.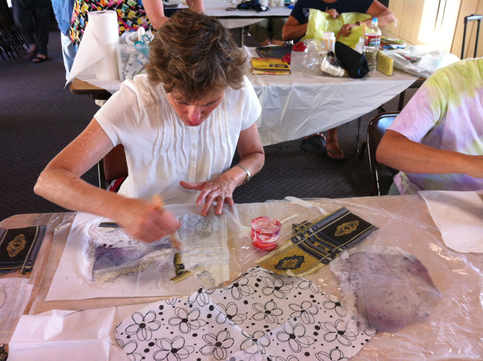 Theresa joined us this week and jumped right into the fun. We are happy to have you Theresa, we hope you'll come back and play again!

Irene and Caroline are in the zone....
Joni and Luci sure are using some great colors and images.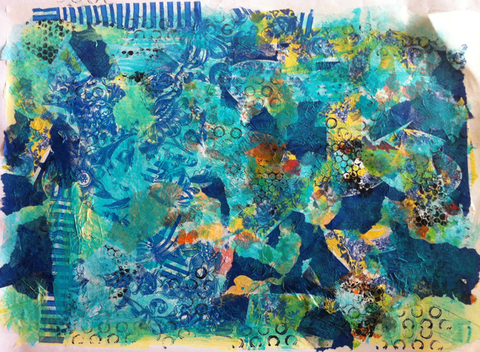 What a beautiful piece by Eleanor. I love the addition of stamped images.

I can't wait to see the finished products when we meet next week! Again, if you are in the San Luis Obispo area, you are welcome to join us!
Tissue Paper Collage July 30
In this class we will create a collage using colored tissue paper and patterned cocktail napkins. The tissue and napkins will be layered and glazed. If the spirit moves you, you can apply image transfers. The colored tissue paper will be used in interesting ways by creating lines and shapes to add texture to the collage.
You will need to bring the following:
Plastic to cover your work area
Substrate such as canvas board
Varity of colored tissue paper
Patterned napkins (optional) (I have plenty of to share)
Mat medium or other adhesive
Gesso
Glaze medium or you can use mat medium and water.
Collage elements
Paper towel
Heat gun
Hair dyer to speed up drying time
Paintbrushes and water basin
Acrylic paint (your selection of colors)