The Prayer Bowl Project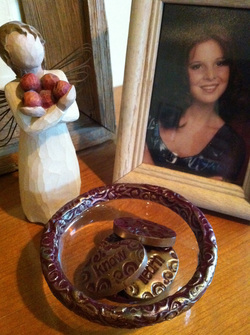 I want to praywithout ceasing,
(1 Thessalonians 5:17). I want to maintain my focus and concentration during my prayer time. Unfortunately, I find it difficult to control my wandering mind. I need a way to keep my attention on my family, my friends, and others with specific needs. I want to give praise and thanks for all the blessings I have received.

So I prayed about praying...
and God answered!

I've heard about using stones or pebbles as reminders for prayer. This memory hatched an inspiration for bowls with stones labeled with prayer needs and gratitude. As the inspiration grew, the ideas for marking stones evolved. I immediately got to work with polymer clay in hand, and through many hours of trial and error the Prayer Bowls came to life.

---
One Set of Prayer Bowls includes: 4 bowls, 16 stones, 30 stickers.
Begin by placing a sticker on the back of each stone. Write a prayer need or praise/gratitude on each of the stone stickers. Place one bowl with four stones in each of the four most visited rooms in your home. As you exit a room with a bowl, take a stone, read the label and say a prayer or give thanks for the identified purpose. Carry the stone with you to the next room. Upon entering the next room, drop the prayer stone into its bowl. When you leave this room, pick up another stone. Say a new prayer as you walk to another room; then place that stone into the bowl in that location. The process continues as you move through your home, which allows you to pray throughout your day as the stones pass from room to room. What a unique way to remember those in need and to give glory to God!

The Prayer Bowl Project meets your needs.
If you have a loved one that needs prayer, consider a personalized Prayer Bowl Project. I am happy to set up a project for you so the net proceeds from your sales of Prayer Bowls benefit your loved one. Enter your contact information below and I'll will contact you to discuss your Prayer Bowl Project. If you would like your prayer needs to be included in the Prayer Bowl Project's regular prayer meetings please complete the contact information. Your contact information will be held in confidence by Harmony Schoolhouse.