New Newspaper Collage by Irene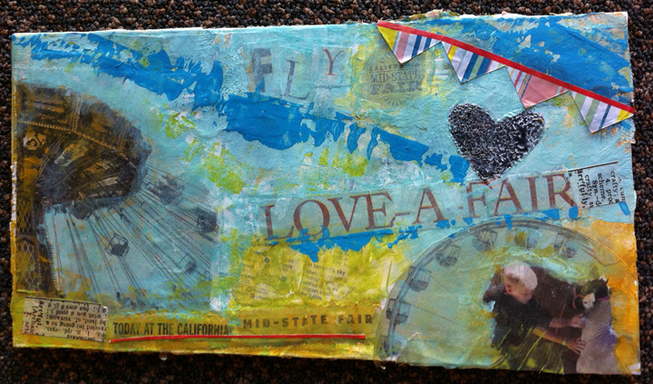 The Mid State Fair was recently in town. It offered some great images in the local paper. Irene's collage shares some of the good times had by one and all. Personally, it was the first time I ever rode on the swings! It was great, I loved it. In the bottom right corner with young boy and a goat tells the story of another of my favorite aspects of the fair. I really enjoy seeing all the 4H animals. Irene, I love this collage!
Two New Newspaper Collages By Joani
Joani came to class this week excited that she had finished a couple of projects. She agreed to share them with you. I'm so glad she did, I'd hate for you to miss them.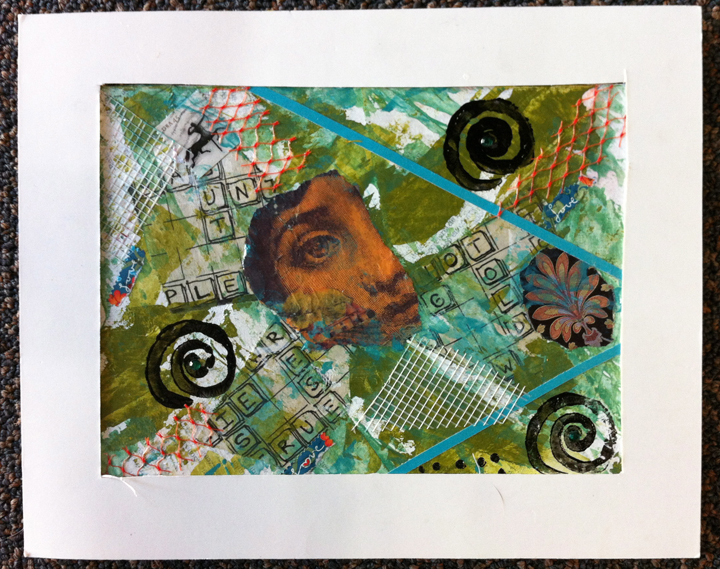 Joani, both are just beautiful! Congratulations!
Newspaper Collage Class was a Challenge!
This week we did our best to get the hang of using newspaper to make a collage. It is harder than it looks! We used Gesso as glue and as paint.
We have a good laugh every time we use gesso. It's a joke because Marilyn and Caroline ask several times during the demo and play time, "Is that Gesso?" I know, It's one of those, you have to be there, moments. Anyway we get a lot of milage out of it and a chuckle.
Is It Love? is the sample that I made and used to point out some of the techniques. First, we used gesso and a credit card/room key to glue down several layers of newspaper. Next, we applied our images and text, and added an accent color, also using the credit card. Then we decided on a rubber stamp image as an accent. I shared an embossing technique that allows for a lot of texture. You can see the texture in the black hearts.
Marilyn and Caroline busy laying in the newspaper. Hey Marilyn, "Is that gesso?"
I can't wait to see the finished products next week. Stay tuned!
Newspaper Collage
You will need to bring the following:
Plastic to cover your work area
Substrate such as canvas board
Newspaper print and selected pictures
Masking tape
matte medium for adhesive
Gesso
Ultra Thick Embossing Enamel (UTEE) (I have plenty of to share)
Black and white acrylic paint and your choice of accent colors
Paper towel
Heat gun
Hair dyer to speed up drying time
Brown distress ink (I have plenty of to share)
Paintbrushes and water basin