Image Transfers
The image transfer technique proved to be more of a challenge than a joy. We had no problem making a transfer using packing tape or matte gel medium. But when we applied the gel medium directly to the board, it wasn't too successful. the texture of the canvas board wasn't smooth enough to get a good image.
The two children in this piece are image transfers using matte gel medium. I enhanced their color with watercolor markers.
As you can see in this close-up, the translucency was maintained using the watercolor markers and the music behind the image is still visible.
In this piece I used packing tape to make the transfer.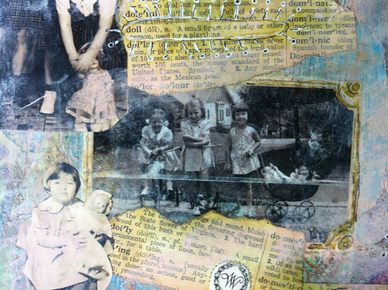 The only problem with packing tape is its width. you can see in the close-up where I had to overlap the tape to cover the entire image. It's oaky though, I think it adds a bit of interest.

We'll keep working with image transferring. It all takes a bit of practice. No problem though, the practice is an awful lot of fun!
Image Transfer July 16
In this class we will use a variety of techniques to transfer images to background foundations. We'll use packing tape, acrylic paint, and acrylic mediums.

You will need to bring the following:
Plastic to cover your work area
Substrates such as canvas board
Magazine and inkjet images (I have plenty magazine images to share)
Packing tape (I have plenty of to share)
Gel medium
Gesso
Acrylic paint (your selection of colors)
91% alcohol
Paint brushes and water basin
Spray bottle with water
Sandpaper
Heat gun or hair dryer to speed drying time
Paper towel