The Cardboard Collages Have Begun!
So, the first thing I have to report is that we will be meeting for two more sessions and then Linda will return. Linda has been gracious enough to let us finish out the summer working the techniques we have learned. That means we will be in full play mode.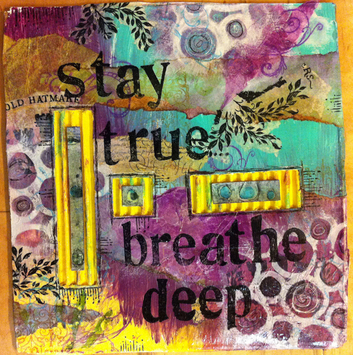 We'll begin with a piece that I created as an example for the class. not only did I carve into the cardboard base, I used many of the techniques we've explored. I used a lot of glazing, and distressing on the base layers to build a foundation. Then I applied some tissue paper. The purple patches and the black leaves are tissue. The white circles were created using a stencil as a mask. I used several different rubber stamps and topped it off with some bits of Citra-solve papers. If I say so myself, I love it!

Let's take a look at the projects that were started in class.
Linda started out with glazes and applying corrugated to the surface rather than cutting into the base.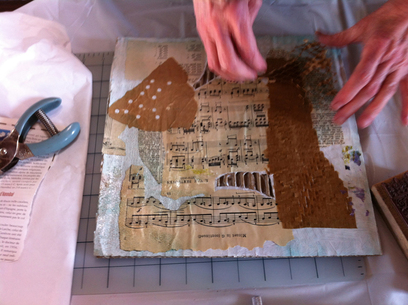 You can see where Marilyn has cut into her base and added texture to the surface as well. I can't wait to see the finished product. She used a distress embossing technique that I'm dying to see.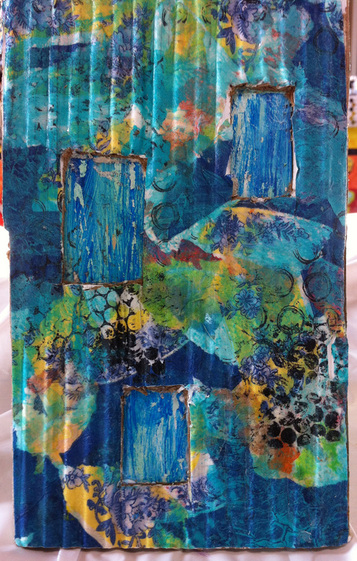 I love what Eleanor has done here. She took a tissue-paper piece she made and laid it into the groves of corrigated. Then she cut into the corrugated to add windows. Beautiful!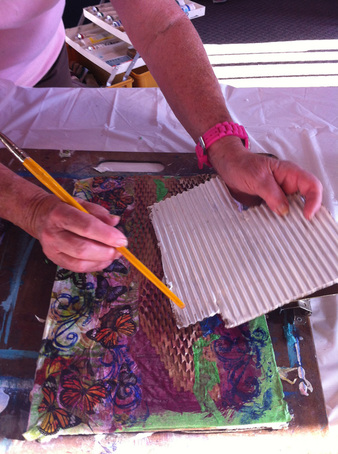 It will be interesting to see where Caroline places her corrugated texture. It looks like she is going to build the texture up rather than carving into the base to expose the corrugated.

Check back later to see how things turnout. I'm sure we will have beautiful projects to share!
Cardboard Collage August 13
For our final class, we will work with cardboard and corrugated. Cardboard has such a cool texture. You'll be surprised by the layers and hidden elements it can provide. I know you will see your recycle trash in a whole new light!
You will need to bring the following:
Plastic to cover your work area
Substrate such as canvas board
Cardboard cut into different shapes and sizes
Acrylic paint (your selection of colors)
Gesso
Gel medium




Paintbrushes and water basins
Selection of collage papers (I have plenty of to share)
Collage elements/ephemera
Exacto knife
Paper Towels
Heat gun or hair dryer to speed drying time