Can you believe we are almost through half of January? I didn't even realize it has been since December 5th that I have posted a new entry. Sorry about that to all of you who are so kind to follow my story. What's funny is that one of my resolutions for 2012 was to do a better job at keeping up with my social media account. So much for that.

Christmas in our home was...still is, I haven't taken down the decorations yet... beautiful!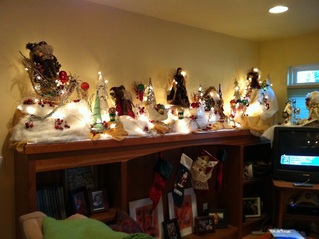 The focal point of the house is always the mantle. This year it is a bit different because I brought angles into the scape. I just love it.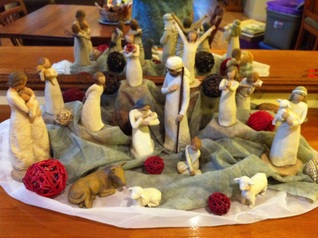 And of course my favorite Nativity scene. I love Willow Tree angles.But my favorite thing about Christmas is pulling out the box of Santa photos.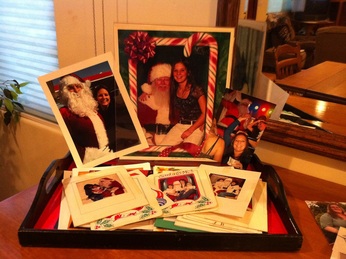 My Daughter is 29 years old. I have a picture of her with Santa for every year of her life! I love to go through them and see her growth. It is pretty neat the way we have the same Santa in many of them. We have seen him age too. Last year started a new tradition I think will continue until she has babies of her own. She has taken pictures with random Santas for the last two years. Last year she found one at a gas station. You can see him on the left. But before she found him, she thought she would have to make due with a Santa she found at a club( on the right)...She says Good Santa, Bad Santa! This year she found her Santa at Target. He is not pictured because I took this picture before her package arrived.

So now it is on to 2012. I pray that it brings you peace and rest in God's love. I will be checking in from time to time to let you know what is going on in my life. Hopefully it will be more frequently than it has. I have lots of great things going on, We can enjoy the journey together!