As artist and crafters we are always looking for just the right adhesive. Today I was introduced to a new use of white glue. As you know I spent today with my folks...it is Thursday. I always look forward to this visit and try to plan an activity of sorts. Today I planned to be crafty with my mom and use white glue and acrylics to cover glass louvered window panels. That didn't happen. In fact, white glue was used in a completely different method.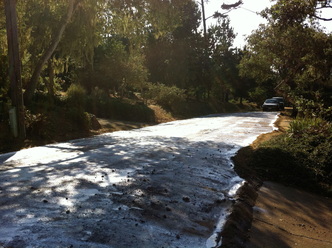 Sure it may look like snow, but it was more like milk. My folks had their road glued today. It is a 9:1 mixture of a polymer adhesive, (Elmers) and water. This is used to keep the dust of a dirt road at a minimum. Look closely at this picture and you can see on the right lower corner there is a berm. This berm is at the top of my folk's driveway. So we fought a flood of glue from traveling down their driveway and into the garage. This went on all day with four passes of the truck, with about two hours between each run. Whew! we were exhausted. I think at 80+ years old, mom and dad need to be sure they have more help next year! I'll be sure to be there to help supervise!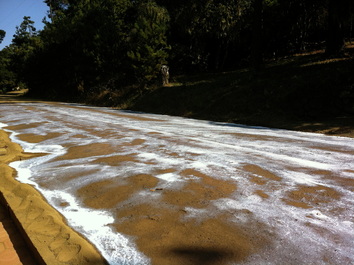 I use a lot of glue in my work. but by the end of the day when I returned home, the last thing I wanted to do was go to my art room and start a new project. I'm bushed!