I had the pleasure of visiting with a new friend. Her name is Christine. She came to my house a while back to learn about polymer clay. We had a fun time in my art room. She invited me over to see her studio.
It looked like a candy shop! Everything was pink and sweet!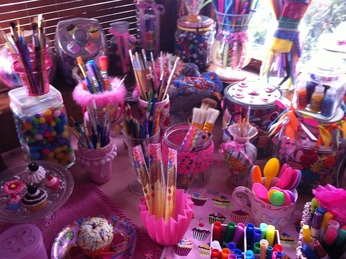 I felt like a little kid! I wanted to touch everything. Just look how her brushes are stored on top of gum balls!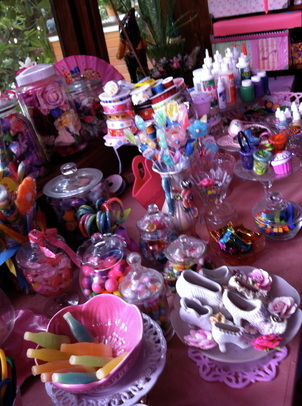 Christine says that she loves candy and absolutely anything pink. She is inspired by the fun colors and the joy it brings to her heart. I think her studio is fabulous. What do you surround yourself with? What gets your juices flowing? Send me a note and a picture. I'd love to visit your space too. By the way, Christine just celebrated a birthday. Happy Birthday Christine! Do you think she had a pink cake?