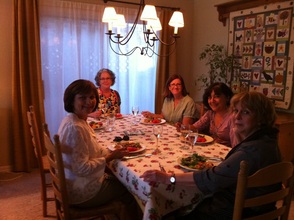 So Much has happened since we last chatted. This week has flown by! Monday started with a play date with two friends that wanted to know how to use polymer clay. It is so much fun to share. I hope in the near future to schedule classes so I can play with more than a couple of friends at a time. I love to teach, so what better thing to do, than to teach and share techniques.

Then yesterday, Linda Ortiz's art group met for an afternoon of creating, and then the group shared a wonderful dinner and great conversation. Recently in one of Kelly Rae Roberts' Flying Lessons, she spoke about community and finding a group of fellow creators to share life. I have found my creative family, or tribe as these groups are often called.
We share a passion and we support one another in all areas of life and we hold each other up when a shoulder or ear is needed. What a blessing it is to have these beautiful ladies in my life.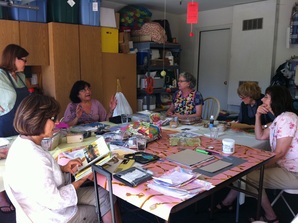 We gathered around a cluster of tables, pulled all our paraphernalia and began our play. As you can see from this picture, we got involved in a lot of conversation as we worked. Boy the oohs and aahs were expressed as we showed one another what we have been doing alone in our own creative spaces. Along the way our stories were shared and the laughter spilled out. What a wonderful way to spend the afternoon and evening. It was so much fun, we didn't want to leave. I didn't arrive home until almost 9:00!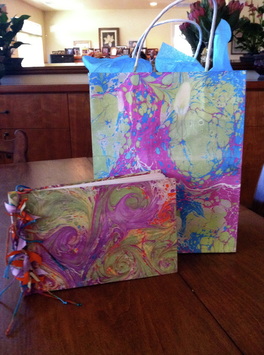 I also had an opportunity this week to make a journal using the paper I made at the marbling class I attended a couple of weekends ago. I gave it to my massage therapist for her birthday. She loved it. She even wants me to make a few for her friends. I will gladly comply!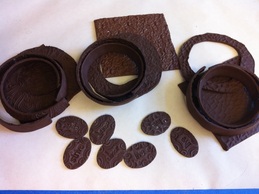 This week has also provided time for me to work on prayer bowls. I am having such a great response to them that I have to figure out a way to make the production more streamlined. So I decided to create some molds. I know there will be a learning curve with using the molds, but I am up for the challenge. The making of the molds also sets the stage for having a product line that will allow for consistency in the styles and colors, and for the upcoming flood of retail orders. Yes I said upcoming because I am speaking it as it is. Please, if you are interested in ordering a set of bowls for your personal use or as a gift, please contact me. Your order will not only bless your prayer life, it will help with the financial needs of my friend
Dani.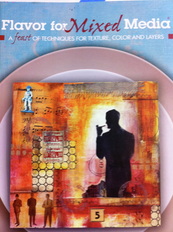 I also got a chance to work on triad color theory. it is a technique shared in Mary Beth Shaw's book
"Flavor for Mixed Media."
It is a really fun process. Pick three colors and titanium white. then start mixing colors, two at a time, white is not counted. If you use all three you will just make mud. Then start laying down color until you fill up the page with color. Next, cut the paper into one inch squares. Then randomly lay the inch tiles out like a mosaic. Not only is it fun, if you keep record of the colors you used, you will know just how the colors react together when you use them in a project.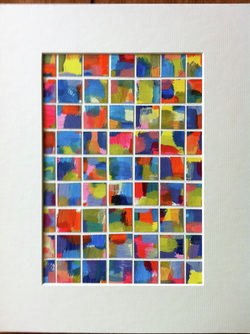 Here is an example. the colors used here are... Well, I'd love to tell you, but right now it is a secret to all of us. I can't locate the list in an art room that is upside down from the latest project. Sorry about that. I;ll get back to you on the information.

So there it is. The week is seeding by. Before I know it, it will be Christmas!