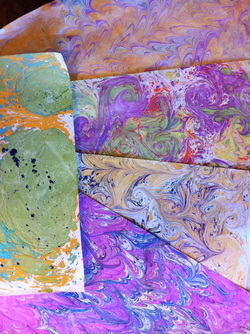 Wow! Boy-oh-Boy! Stupendous! Out of this world! I can't find the right word to describe the marbling class with the Central Coast Creative Arts group taught by Anne Lawrence of Cambria.

From the very first paper I created to the very last I was squealing with delight and doing a very strange looking happy dance. Who would of thought it was so easy and so much fun. The fun part is you never know what you will git until you pull the paper out of the tank. All I can say is Wow!.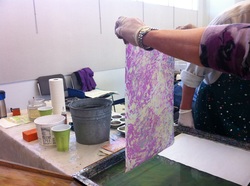 I can just hear the ooohs and aaahs that were heard when this one was pulled. We started out by learning the Turkish Stone and moved through a series of demonstrations that lead us to the Bouquet. I can this about that, even though the results are amazing regardless of what you pull, it really must take a lot of practice to be able to create the perfect marbled paper. I do believe I will be purchasing the ingredients so the practice can begin! I am going to be Googling the Mad Marblier to see what tricks of the trade he has to share. Oh! it was such a fun day creating and sharing friendship. There is nothing like it!