As you know I am focused on getting my art out into the world. So Im clicking around the internet and ended up on
Kelly Rae Robert's site
. She is one of my favorite artists. I see on her page she is offering an e-course on developing the creative business of your dreams. Okay, that connected with me, so I took the plunge and signed up. It is five week course called Flying Lessons. Kelly provides daily information and then we have the opportunity to communicate with those enrolled. We also have a lifetime membership to a private Facebook group. All I can say is, wow-oh-wow!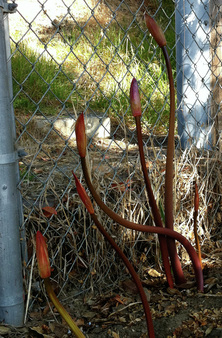 I enrolled a week late so I have been madly gobbling up the already thousands and thousands of words from Kelly Rea, as well as the hundreds of comments that go along with each post. I am so excited! I am learning so very much.
Oh, don't you just love the designs in nature? The Naked Ladies are pushing and the sweeping curves of the stalks are wonderbaugh.
So sorry, I leap frogged on you! Back to the Flying Lessons. The best part so far has been a video she shared from TedX.
Simon Senik
talks about the "golden circle" that guides our connections, desires and influences how we make decisions. It is enlightening to say the least. I understand now why the
Prayer Bowl Project
is going so well.
I started the project because I wanted to serve God by helping out my sweet friend Dani. People are buying the bowls because they connect with my beliefs. I get it now.
This same information can be applied to my
professional development
business too. Many teachers are selling the "what" to their students and they turn off. Perhaps we can consider the "why" of the learning process and better connect with our students. It's brilliant I say, just brilliant!
I know Flying Lessons will make a huge difference in my life. I have had many blessings in the journey so far and I can't wait to share them with you in this blog. In fact, I uploaded my recent projects included in the
Stampington publications
. Take a look-see. Be sure to send me a comment if you have any questions about any of them.