In my last post, I told you that I am taking "Flying Lessons" with Kelly Rae Roberts. Wow! Talk about being overwhelmed. There is so much information being shared. Not only by Kelly, but the fellow fliers are sharing a huge amount of information in the comments and in Facebook group posts. The best tip I've gotten is Alex, the speech voice on my MACBOOK. All you have to do is highlight text, right click, scroll to speech, and turn it on. That easy and any text that is highlighted will be read to you! This is so great. I have so much research I need to review for my professional development business, but finding time to sit and read is a difficult thing to do. Now I can review the research and work on my art.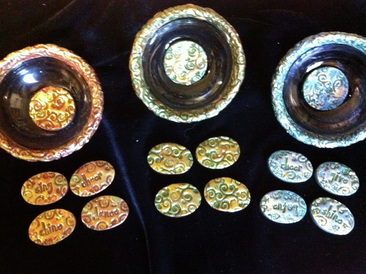 So today I was able to finish three sets of
prayer bowls
. While in the process I learned about putting a creative business on Facebook and the value of Twitter. Oh-boy...more things added to my to do list. I tell you what, this e-course is so valuable! If you are a creative soul and want to learn about turning your talent and inspiration into a business, SIGN UP FOR THIS COURSE! (Check back and I'll have a button up as soon as I learn how to make one.)
In the end, it is much like the NIKE ad. "Just do it!" But just doing it requires a lot of commitment. I've done it before with Lobesters my jewelry business 20 years ago, The Homeroom Educational Support Services 15 years ago, and Harmony Schoolhouse Professional Development 7 years ago.
As you can see there is a pattern here. I move from thing to thing. I guess I haven't really found my true calling. Well, that's not all together true. I loved Lobesters. You think I'm spelling it wrong, don't you? At the time I lived in Florida. Lobsters are big in Florida. So, Lobsters was a play on lobsters. I'll see if I can dig up a pair and show your the logo. It was pretty neat. Anyway, that business did really well. I had a 13 week trunk sale at Macy's, and sold jewelry at the Newport Beach Museum of Modern Art. I had a shop in Cambria too. (I think I mentioned that.) Closing the business and pulling all my merchandise out of stores was the worst decision I think I've made. No, wait, one of the worst. Things we do when our dream is not supported by those around us. but that was then...
Wow! I have to yank myself right out of that memory! What I am trying to say, I need to have art of some kind in my life. I have created and run enough businesses to know I can do this. I have the commitment. So, I ask you to please follow this blog and roam around the web site, and stay in touch with your comments. It will be fun to have new friends on this journey of establishing my creative self.