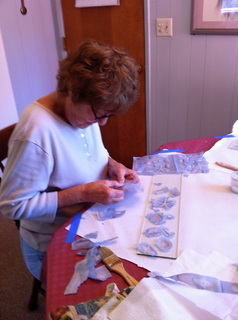 As you know, I have been designing artist papers for the past few weeks. One technique I really enjoy is working with tissues. I showed some of them to my mom and she got a brainiack idea. She wanted some paper made with shells images to cover the glass louvered panels in her bathroom windows. She thought it might be a good way to diffuse the light.

So yesterday being Thursday, I took a beautiful drive up the coast to Cambria to visit with my folks. Often times we talk a walk on the boardwalk, but unfortunately Mom hurt her knee and is really hobbled. I figured I'd bring the materials for doing the louvers and we'd work on it together. In this picture Mom is laying out her pattern on a louver. It has been a really long time since we've been crafty together. (We used to have a shop in Cambria and we would sell our crafty projects. My portion was jewelry and Mom's was gifts and items of the home.)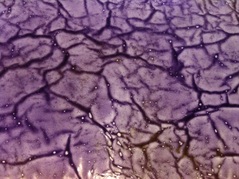 Well our first idea of using images from napkins with white tissue didn't work. The images came out too light and it looked really amateurish. So we played around a bit more and ended up with a marbled look. I crinkled up the tissue paper and then spread it out a bit leaving plenty of wrinkles. Then I glued it to the glass with diluted white glue. Next I diluted some acrylic paint with the white glue to crate a sort of glaze. I gently painted the mixture over the tissue and this is how it turned out.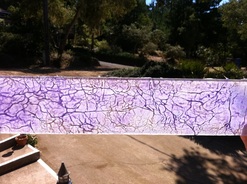 Mom is so pleased with it the results that she wants to go ahead with the idea. So next week when I visit I will bring the materials to do both bathroom's windows. They wont be purple, they will be blues and greans to match her ocean themed bathrooms. It should be fun.