It's been a few days since my last post. Boy-oh-boy have I been busy. The most exciting part of the week was of course, creating. I completed 6 sets of prayer bowls and 5 new artist papers. I am working toward a show I've entered in November. I am pleased to be putting together an inventory. I'll give you more specifics on the show as the date arrives. Hopefully you will be able to join me.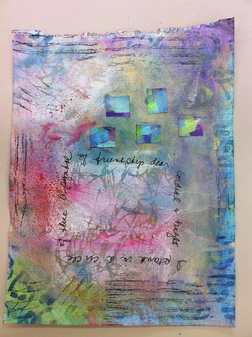 This piece was done by Eleanor Cartwright. She is in my Wednesday art class held by the San Luis Obispo Adult Ed. It is the best class. It's taught by Linda Ortiz. We have a core group that takes the class every time it is offered. It is all about experimenting with techniques and sharing our experiences and learning from each other.

Eleanor is kind enough to call this a collaborative work. Really it is all her. I Was working on a color triad project and had a few extra squares that matched the color palette, so I shared. It is a beautiful piece. I just wish my picture did it justice. Great work Eleanor!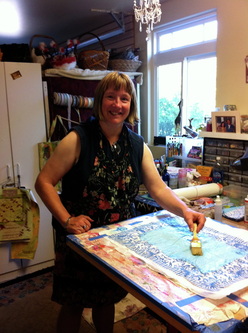 This is my sister-in-law Darcy. She came over today for a playdate. As you know I have been working on artist paper. Well, Darcy got into the groove with me and started her own. Unfortunately we didn't get it finish in time for her to catch the bus home, so I will share the finished product with you at a later date. I think it will be just beautiful. Darcy has a great eye for balance in her art work. I am excited to see how she works through this one.
And last, but not least, all the reorganizing of the art room has become an extraordinary garage sale. Once I got into it, I was going through every cabinet in the house! I plastered the neighborhood with signs, so I am hoping for a good turn out. If this evening's sale is any indication, it will be a success. I had an early bird show up and she purchased a dresser, a mirror to go with it, and a few pieces of yard art. There is a lot of stuff out there. The hardest part is the rule that if it is in the sale but does not sell, it can't return to the house. It must go to the Goodwill. I pulled some items that will be very difficult to let go if they don't sell....gulp. So I'm off to dreamland with dreams of loads of customers leading to many sales. Sweet dreams to you!