It is almost time to go to class. We will be doing faux encaustics. It should be interesting... Well today was fun, I just messed around here in my art room. I decided I would try to reconstruct paper. I found this technique in the 2011 March/April Cloth Paper Scissors magazine.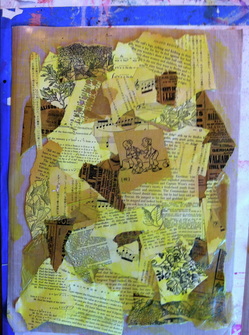 I have bundles of scrap paper so here we go. The first thing is to mist a teflon sheet with water. (I have always used the shinny side of freezer paper.) This is different than I usually work. I just put glue right down on the mat/paper itself. The article says to put glue on both sides of each paper scrap. I usually put the paper directly on the glued mat and then put glue on the top of the scrap. I think it is six of one, half dozen of another. What is different is misting the layers of paper. I like this idea. it keeps things working. This example is covered with a glaze of apple tart green.
The texture of the finished piece is like plastic. It feel really neat. This example is bits of collage papers I have made that are in the yellow, green hues. The edges are ragged, but I like it like this. Perhaps these reconstructed papers will become journal covers....
if you try this, or have tried a variation of it, please leave a comment and send a picture to me via email. I will be happy to post your work.
kathleen@harmonyschoolhouse.com