What a great day in the art room. The art room, or studio? I know the advice out there is to see yourself as an artist. Okay, I am an artist, but that is as far as I can go. I work almost every day in my art room and not my studio. Ack! Studio! For some reason that word causes me grief. The word studio brings with it an air of accomplishment. It's not that I don't accomplish a lot in my art room, it is just that I am not accomplished. I doubt I will ever be. I like the majority of my projects, am a work in progress.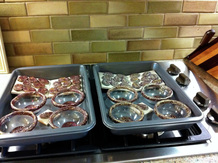 Today's play began as most days with prayer bowls. My husband Ted calls it bowling. I like that. So this morning I hit the lanes and completed, through the baking stage, two sets. It was almost a catastrophe. I was focusing on a collage and got into the "Zin" of it, and forgot the bowls in the oven. Whew! close call.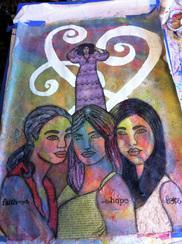 This collage, like most of what I do, is a combination of mistakes. Eventually it will work itself out. I really like this one. I sure hope i don't mess it up to the point that it is unrecognizable. I love the way the faces turned out, I just hope I can bring the white swirls into place. We will see.....