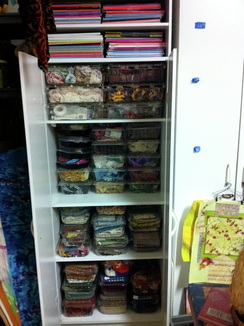 We have a garage that will never see a car. One third of it is my husband's tool shed. He can access it by opening the garage door.The other two-thirds is my art room. I've been feeling a bit guilty about the amount of space that my life requires. Our house is two bedrooms, two baths. The second bedroom is my office. Harmony Schoolhouse Professional Development requires the space. Add to it the art room in the garage, well, I use the majority of the square footage.
I have been looking for cabinets so I can reorganize my space and get the clunky old furniture moved out. (I have been using the dressers I had as a child.) They are not the best use of space.

Wow-oh-wow! Target just opened in San Luis Obispo! They have closet sectionals on sale. I bought 3 sets and jumped right into reorganizing my art room. I got one together and it fits my fabrics and laces perfectly. I recycle Costco's plastic vegetable boxes and use them for storage. I sorted all my fabrics and laces by color and the boxes fit perfectly in the new cabinets.

Tomorrow after church, I'll set up the other two, put my room back together, and be ready for Monday's play time! By the way, this is motivating Ted to organize his tools too. Talk about killing two birds with one stone!