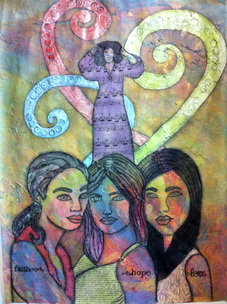 There is a story in every piece of art. "Faith Hope and Love" is no different. My daughter Shannon is getting to know God. One of my major mistakes as a mother was not introducing her to God as a child. I praise God for answered prayers that she might open her heart to Him. This piece is the reflection of a recent conversation I had with Shannon. She called to tell me about a leadership class she is taking at her new church. She reflected on her past thoughts and said she never really had hope. I asked her to elaborate. She said faith leads to hope, and your can't have faith unless you believe in and know God.
This piece is a celebration of Shannon's new understanding. The strength of faith, hope and love is symbolized in the tattoos on the girls' arms. The joy that comes from understanding is shown in the music dressed girl. To have this joy we must stand on faith (red swirl) and, rejoice with hope (blue swirl).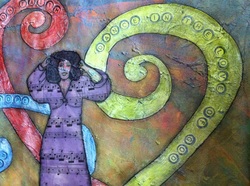 most importantly, with faith and hope, we can dance in the love of God (yellow swirl).