Do you like artist trading cards? I do. They are such fun to make and trade. Well, I got an idea to make some background collages for cards and while playing around with acrylic paint and rubbing alcohol, I found out something pretty neat.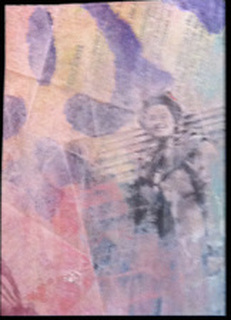 I started out by tearing up text, photos, and music. I collaged them all down and then covered them with a variety of paints, inks and glazes. If you know me, you know that what I start out to attempt never works, so it is always a crap shoot if anything turns out worth keeping. Today was no different. I was simply making a big mess. so I decided what the heck, I spray it with 90% rubbing alcohol.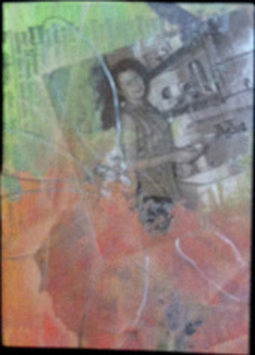 Perhaps you have played with rubbing alcohol and acrylic paint. It is pretty boss what happens to the top coat of paint when you spray it when it is wet. Well, today the top coat was already dry. So instead of the cool blotching effect from the alcohol, it just softened the paint layers and allowed me to remove it. The pictures that were collaged in the first layer appeared!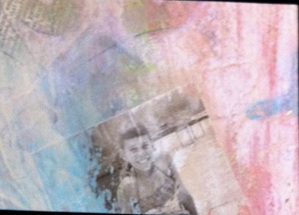 I am so happy with the results. If you want to see more, check out
my ETSY shop
. I have listed packs of 10, one-of-a-kind ATC background papers for you to embellish and create your own ATC collection.
I'd love to see your artist trading cards so leave me a comment with a link to your pictures.
Here's another great idea...when you finish with your cards, leave them around town for people to find. You might just brighten someones day, and will for sure be adding beauty to your neighborhood!